"10 ANIMAL FILMS BY CHRISTOPH SCHLINGENSIEF – presented by Anna- Catharina Gebbers, Galerie im Regierungsviertel/Forgotten Bar Project"
NO SOUL FOR SALE – A Festival of Independents June 24 – 28, 2009 (opening June 23, 2009)
X Initiative
548 West 22nd Street
New York, NY 10011
www.x-initiative.org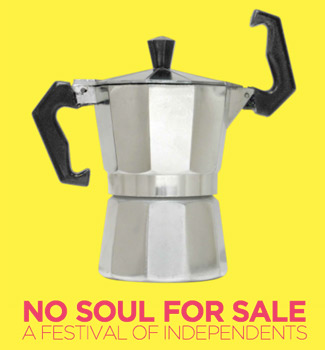 Galerie im Regierungsviertel / Forgotten Bar Project – Moving Image Works Program:
Ten Animal Films by Christoph Schlingensief
presented by Anna-Catharina Gebbers
Duration: 44min 31sec
The moving image works program Ten Animal Films by Christoph Schlingensief (presented by Anna-Catharina Gebbers) gathers for the first time only those films by the German artist which focus on animals. The pieces on view are included as revised versions in several works by Mr Schlingensief: 'Nothing is finished, everything is transformation' is a motto that could be applied to his whole œuvre. Earlier works and work situations are regularly absorbed into new works, re-interpreted and adopted for current contexts. For example his film 'Hasenverwesung' (hare decay) caused a scandal at Mr Schlingensief's staging of 'Parsifal' at Germany's prestigious Wagner Operafestival in Bayreuth: The film shows the cycle of life and death through maggots, which eat a hare corpse. Varied versions of the film piece occurred in later works.
The program on view presents ten of these pieces –partly as raw material, partly reworked and with sound/music added to the images– which show animals: Seals filmed in Namibia, an enormous insect found on the streets of Manaus, a bat and a bizarre prehistoric looking fish also filmed in Manaus, Drosophila Melanogaster maggots, a penguin, German shepherd dogs, apes, an ostrich and the famous transformation of the hare through maggots.
Christoph Schlingensief (*1960 in Oberhausen, lives in Berlin) is Germany's most known and most revolutionary artists in the field of neo Fluxus and contemporary Happening Art, film, theatre and opera. His visual arts influences mainly stem from artists like Joseph Beuys and Allan Kaprow, while artists like Jonathan Meese are influenced by Mr Schlingensief. Originally an auteur filmmaker Mr Schlingensief was influenced and trained by the 1960s/1970s German Avantgarde film directors. Film is one of the major aesthetic devices for Mr Schlingensief's political plays, performances and art works. His most recent projects include major solo exhibition at Haus der Kunst, Munich (2007) and migros museum Zurich (2008), group shows at De Appel, Amsterdam, ICA, London, Athens Biennale (2009), stage works like 'Jeanne D'Arc' (German Opera Berlin, 2008), 'Mea Culpa – A Readymade Opera' (Burgtheater Wien, 2008–09, Bavarian State Opera, 2009) or 'Eine Kirche der Angst vor dem Fremden in mir' (Ruhrfestspiele 2008, awarded with the participation in theater treffen Berlin, 2009), a book on his cancer disease, and at present the development of a festival hall for Africa (supported by the German foreign ministry and the German endowment for culture).
Anna-Catharina Gebbers is an independent writer and curator based in Berlin and a member of Galerie im Regierungsviertel / Forgotten Bar Project.